Alexia Fast

Joins Ryan Reynolds, Rosario Dawson In 'Queen Of The Night'
EXCLUSIVE:
Canadian actress
Alexia Fast
has been cast in Atom Egoyan's thriller
Queen Of The Night
opposite Ryan Reynolds and Rosario Dawson. The psychological thriller stars Reynolds as a father who discovers clues 8 years after his daughter's abduction that suggest the now-17-year-old girl is still alive. Fast recently starred with Tom Cruise in Paramount's
Jack Reacher
and appeared on the CW's
Supernatural
and
The Secret Circle
; she will play Reynolds' daughter, Cass.
The film reunites Egoyan with Mireille Enos, who appeared in the director's forthcoming
Devil's Knot
and is set to play Reynolds' wife, and Scott Speedman, who starred in Egoyan's 2008 pic
Adoration
and will play a cop investigating the girl's disappearance. Egoyan co-scripted with David Fraser; filming begins next month in Ontario.
Meanwhile, Fast has a recurring role on Melissa Rosenberg's upcoming NBC drama series
Red Widow
, which premieres in March. She is repped by UTA, Sanders Armstrong Caserta Management and Great North Artists.
* 27-years old 1

8

-years Canadian actress Alexia is playing a teenager. was

t

he

last key

role to be cast. Knowing Egoyan's modus operandi, it also most likely requires nudity and that's why it took him so long to find someone to p

ortray

the character. He may have preferred

a

much younger actress

but Alexia is a good choice.
UPDATE

01/31/2012
Oh God

!

She was born in 1992 so tha

t makes her 20.

My Canadian tipper is super-mad and he should be. But the fact is my interest in

c

anucks is restricted to handful of chicks (Serinda, Brooke Nevin, etc). For me if they did do their first nudity, it's always

after the fact situation for me.
By the way, can someone tell me what is going with Ms. Nevin? Is she taking a break from the biz? Her twitter has gone quiet since last month. Imagine waking up to the news that Brooke is slated to appear on an episode of Femme Fatales new season

?

I will die on the spot but going gracefully with a hard-on!
++++++++++++++++++++++++++++++++++++++++++++
Starz Developing Dysfunctional Ballet Drama From Producer of 'Breaking Bad'
Mikhail Baryshnikov and Leslie Browne in 1977 film 'The Turning Point' Twentieth Century Fox It may not
be in quite the same league of meth manufacturing, but "Black Swan" taught us there's a dark side to ballet,
and Starz plans to explore it with a new and yet-untitled original drama about the world of dance that it's put
in development.

The project comes from "Breaking Bad" co-executive producer Moira Walley-Beckett and Lawrence
Bender, known for his work as a producer on Quentin Tarantino's films since the "Reservoir Dogs" days.
The drama will follow a young ballet dancer named Claire who joins a prestigious New York ballet company while struggling with a troubled past, her journey illuminating the "dysfunctional underbelly of the ballet world."

Bender will executive produce the series alongisde Kevin Brown, with Starz Entertainment producing.
Starz notes in the announcement that Bender, Brown and Wally-Beckett all have connections to the world
of ballet -- Bender and Walley-Beckett are former ballet dancers, and Brown's family is made up entirely
of former ballet dancers, serving as the basis for the 1977 Oscar-nominated film "The Turning Point."

Starz is currently in the midst of airing the final season of its period action series "Spartacus: War Of The Damned." David S. Goyer historical fantasy drama "Da Vinci's Demons" is set to premiere on April 12.
++++++++++++++++++++++++++++++++++++++++++++
David Mamet's HBO Semi-Biopic 'Phil Spector'
Helen Mirren and Al Pacino in 'Phil Spector'
"
Phil Spector
," the upcoming TV movie written and directed by David Mamet for HBO, stars Al Pacino as the (in)famous record producer and Helen Mirren as Linda Kenney Baden, the defense attorney representing him in his trial for the murder of Lana Clarkson. It's the latest in a string of wild-eyed biopic roles for Pacino, who in 2010 starred as Jack Kevorkian in Barry Levinson's "You Don't Know Jack" (another HBO film) and is slated to play Joe Paterno in Brian De Palma's "Happy Valley."
Meghan Marx
plays Lana Clarkson.
++++++++++++++++++++++++++++++++++++++++++++
'Skyfall' Writers Neal Purvis and Robert Wade To Write Nicolas Winding Refn's 'Barbarella' TV Series
by Kevin Jagernauth
With Nicolas Winding Refn exiting "The Equalizer" with Denzel Washington, and losing bromatic collaborator Ryan Gosling for "Logan's Run," it might seem that the director is suddenly adrift.
But in his back pocket is the "Babarella" TV series reboot, which he signed on to last summer, and it seems things are moving forward on that project with a couple of big names coming on board.

"Skyfall" writers Neal Purvis and Robert Wade have signed on to write the show and character

that Gaumont International Television and producer Martha De Laurentiis are reconfiguring for a

new generation.
For those of you who may be too young to remember, Jane Fonda skyrocketed to fame playing

the 41st century astronaut in Roger Vadim's 1968 movie, and the goal is keep things equally alluring.
"I'm certain that the combination of our creative forces will produce a show that is as enthralling

as it is sexy," Refn said, about working with the 007 pair, with whom he'll co-write the movie.
Purvis and Wade seem to be enjoying the remake track, as they're also penning "Kojak" for Vin Diesel

(good lord). No word yet on when "Barbarella" will shoot or more importantly, who is going to take

the lead, but considering Refn's slate after "Only God Forgives" seems relatively free at this point, it looks like this is shaping up to be his next gig. [ScreenDaily]
* almost certain it'll be on a premium cable. Babarella without nudity is like Grand Theft Auto without cars. Hopefully they will pick a fresh talent or entice a nudity dodger into auditioning.
++++++++++++++++++++++++++++++++++++++++++++
Woodley 'making out' with co-star at Sundance
Wednesday, 30 January 2013
Shailene Woodley was seen passionately kissing her
White Bird in a Blizzard
co-star Shiloh Fernandez.
Shailene Woodley and Shiloh Fernandez
The 21-year-old actress and the 27-year-old actor play love interests in the dramatic thriller about a woman whose life goes into tumult following her mother's disappearance.
Apparently Shailene and Shiloh are also intimate in real life, as they were witnessed locking lips and flirting heavily at the Sundance Film Festival.
While partying at the Hyde Lounge the couple became closer throughout the evening.
"They danced until 2 a.m. and ended up making out at the end of the night," a source told Us Weekly magazine.
Shailene's career is also booming at the moment.
After receiving a Golden Globe nomination for her work in George Clooney's 2011 drama The Descendants, the actress has been piling on projects.
Shailene is currently filming The Amazing Spider-Man 2, which also stars Jamie Foxx, Emma Stone, Sally Field and Andrew Garfield.
Her sci-fi action film Divergent is currently in pre-production and is slated for release in 2014.
* Shiloh banging Shailene off the cam as well as banging her on it in upcoming White Bird in a Blizzard (2013) based on the novel of same name. Fully expect Gregg Araki to shoot it in casual eroticism he's famed for and not watering it down to PG-nonsense.
++++++++++++++++++++++++++++++++++++++++++++
Dakota Fanning wouldn't skinny dip with 'Night Moves' co-stars
Actress Dakota Fanning sat and watched her "Night Moves" co-stars Peter Sarsgaard and Jesse Eisenberg get naked during a skinny-dipping trip in Oregon, because she refused to join in the naked fun.
The three actors were in Oregon shooting the drama last year when Sarsgaard suggested they check out one of the state's famous hot springs nearby.

The stars didn't pack their bathing suits, so the "Green Lantern" star and Eisenberg jumped in naked; however, bashful Fanning admits she was too embarrassed to do anything but watch.
She tells Glamour magazine, "I don't do enough adventurous things, because I'm like, 'I might get hurt.' But when we were doing 'Night Moves, Peter, Jesse, and I went to these hot springs in Oregon, and I didn't have a bathing suit.' The woman who worked there said, 'Oh, not a problem. Clothing's optional after 8pm.' And I was like, 'Whoa. No, no, no! Not doing that. Here. With any of you!'
"So we went in there, and everyone was so comfortable being naked. They were so free. I just sat there and begged to go back to the hotel. … It was really fun. I just wanted to have a bathing suit on."
And the beauty admits she sometimes wishes she was more adventurous like her younger sister, actress Elle Fanning: "By nature I'm kind of a reserved person. Something I admire about my sister is that she's very free and just lives life like no one is watching her."
++++++++++++++++++++++++++++++++++++++++++++
Heléne Yorke to Play Recurring Role on Showtime's MASTERS OF SEX
New York based actress
Heléne Yorke
is set for the new
Showtime
drama series,
Masters of Sex
. Yorke (30 Rock, A Gifted Man), who was featured in the pilot episode, will now recur throughout the first season. An adaptation of Thomas Maier's book, Masters stars
Michael Sheen
and
Lizzy Caplan
as William Masters and
Virginia Johnson
, real-life human sexuality research scientists. Also a notable theater actress, Yorke will continue her role as Jane, one of the pair's primary subjects in their experiments.
Yorke is repped by Gersh and Regarding Entertainment. The Sony Pictures TV produced
Masters of Sex
is scheduled to premiere later this year.
Masters of Sex
is a one-hour drama starring acclaimed actors
Michael Sheen
and
Lizzy Caplan
, who will portray the real-life pioneers of the science of human sexuality, William Masters and
Virginia Johnson
.
The series chronicles the unusual lives, romance, and pop culture trajectory of Masters and Johnson. Their research touched off the sexual revolution and took them from a mid-western teaching hospital in St. Louis to the cover of Time magazine and nearly a dozen appearances on
Johnny Carson
's couch.
Caitlin Fitzgerald
(It's Complicated), Nicholas D'Agosto (Heroes), and Teddy Sears (American Horror Story) also star. Emmy and Golden Globe award-winning actor
Beau Bridges
and Emmy Award winner
Margo Martindale
also star.
The series is an adaptation of Thomas Maier's book
Masters of Sex
: The Life and Times of William Masters and
Virginia Johnson
, The Couple Who Taught America How to Love. The pilot was directed by Academy Award nominee
John Madden
(Shakespeare in Love, The Best Exotic Marigold Hotel).
Produced by Sony Pictures Television, Michelle Ashford (The Pacific) and Sarah Timberman and Carl Beverly (Justified, A Gifted Man) serve as executive producers.
++++++++++++++++++++++++++++++++++++++++++++
The Joy of Cinemax
It may not seem like anything worth caring about to most people, really: Cinemax has renewed its new show Banshee for a second season, after three episodes. It's just some random show on Cinemax, that cheesy porn-lite channel, right? Wrong! With the renewal of this new series — a gritty, gory, only kinda sorta corny crime show about depraved small-town America — Cinemax is working to assure a position as a true network of original programming. It's an oddly exciting and mostly unheralded development that speaks to the ever-deepening and refreshing pool of available television.
Look, Cinemax's three big shows right now aren't going to win many awards — ones that aren't for stunt work, anyway. And that's... OK. The goods are great fun nonetheless. The network's first show, Strike Back, a co-production with British broadcaster Sky, is a T-and-A action riot that eschews geopolitical nuance for guns-blazing bravado and is all the more enjoyable for it. Its attitude toward pesky things like extreme civilian collateral damage would be deplorable if it was the real world, but it's not, so who really cares? Not caring too much about the actual nuts and bolts of global intelligence, the show is international fun — last season told an unexpectedly complex story of nuclear armament and nation-building in Africa. And, rather surprisingly, the great Charles Dance showed up to play the season's main villain, giving it enough gusto to override most of the too-easy plot contrivances. All the neat explosions took care of the rest.
Hunted, another British co-production (this time with the BBC), is a subtler and decidedly smarter affair, a domestic spy drama about a wronged superagent (Melissa George) seeking undercover revenge. Its first season had more satisfyingly knotty mythology than Homeland, but blessedly didn't take itself so damn seriously. Sure, George's Sam Hunter (get the title now?) may be the worst spy ever — breaking into the bad guy's office in broad daylight while he's in the other room is maybe not the best idea! — but she's an intriguing central figure nonetheless. George was supported ably by the likes of Stephen Dillane and confirmed dreamboat Adam Rayner, playing shadowy colleagues/potential foes of Sam's with lots of pleasing modulation and mystery. The first season ended with a wonderful twist, something we couldn't see coming miles away, like, say Abu Nazir's wicked master plan. Classier than Strike Back but no less viscerally engaging, Hunted was an unexpected highlight of the late-2012 TV season. We were sad to hear that the BBC has dropped its partnership with the show and that Hunted's second season will likely look very different because of it, but at least creator Frank Spotnitz and his star are still aboard.
And then there's Banshee, which is definitely the weirdest of the three series. Set in rural-ish Pennsylvania, the show focuses on an ex-con who turns up in the titular town to find his long-lost lady love, only to wind up becoming the sheriff by way of a deadly fight and a case of mistaken identity. He squares off against the de facto town leader, a sinister fellow with evil henchmen and ties to the Amish community. At just three episodes in, Banshee is already an engaging potboiler, at turns silly and kinda sexy. It's Cinemax's first purely native show, and it indicates good things for the future. That future includes another action series, called Sandbox, and, supposedly, a TV version of the Transporter films. So, Cinemax knows its brand. It's action with a dash of wit, plus just enough oddity to keep it original. It's FX to HBO's AMC.
Cinemax is lucky to be owned by HBO — they don't have to compete with their polished, prestige-ified big brother. Unlike Showtime, Cinemax does not seem burdened with aspirations of grandeur; they can roll around in the muck and grunt all they want. This is not, for time being anyway, a network that's trying to win any Peabodys. That's a nice change of pace for non-HBO premium cable. Hopefully the dribbles of praise they've been getting of late won't go to their heads. I like the network muscly and goofy; swagger and sweat become it, and too much glossiness wouldn't. I like also what Cinemax's recent intriguing developments suggest about another evolution of the television landscape. They're now succeeding where Starz largely stumbled and failed. So maybe we're truly ready for another round of new offerings. And, lo, here comes House of Cards on Netflix, as well as the rebooted, slimmed-down Arrested Development. And, further off, there will be whatever Amazon Studios turns into. Hopefully expectations can be managed on these new platforms and they'll succeed at courting a niche audience rather than flailing after wider appeal.
For the time being, it's good news about Banshee. It's nice that Cinemax is committed to its grimy genre programming. There might be room for some elegance here and there in the years to come, but for now it's plenty fun chewing on the gristle. To the max!
++++++++++++++++++++++++++++++++++++++++++++
Alexandra Daddario
- Jokes for Esquire - 21/03/2011
* stale joke but coming from Alex.........I'm so proud of her for revealing her mam-sterpiece in True Detective and angry that Woody the dope head gets to play with the melons.
++++++++++++++++++++++++++++++++++++++++++++
The White Queen
++++++++++++++++++++++++++++++++++++++++++++
How the rise of 'romance porn' is transforming erotic movies with period costumes and 'soft lovemaking' - and women love it
A stripper-turned-film maker is putting a softer spin on typical pornography with a new genre of Edwardian-style romance porn - and it seems women are flocking to watch.
Nica Noelle, who uses seductive glances, story-lines of repressed passions, and softer shots of lovemaking, is being credited with turning 'typical porn into pure art,' according to
ABC
.
And like her latest erotic film, My Mother's Lover, with its
padded-out narratives and deeper sense of emotion, is opening up pornography for a wider female market - one that has eluded male pornographers for decades.
Downtown Abbey of porn: Nica Noelle, who films seductive glances, repressed passions, and softer shots of lovemaking, is being credited with turning 'typical porn into pure art'
Brittaney, a 24-year-old live-in care giver for an agency in Pennsylvania, said: 'Nica's work is like watching two people share an intimate, passionate and soul touching moment.
'Watching mainstream [porn] for me is like watching two drunken people hook up at a party and have sex.'
Robert Weiss, founding director of The Sexual Recovery Institute, an outpatient sexual addiction treatment center in Los Angeles, explained that male porn makers have until now had 'a lock on men's sexuality.'
But female pornographers like Ms Noelle are changing that, creating porn that appeals to women, and men, no matter what their sexual orientation.
Ms Noelle said: 'A lot of women came to the conclusion: "I don't like porn." Because there was nothing out there with the female erotic experience in mind.'
Mr Weiss agreed. adding:
'Men and women view sex differently.
'Most men are not really interested in introduction and ending.
'Men tend to be more visual and more attracted to body parts. Women tend to look at the whole. When a woman sees a sexy man, she wonders what it's like to be with him. She looks at him relationally.
Ms Noelle said that many of her story lines, in films titled A Father's Love, My Daughter's Boyfriend, and The Babysitter, deal with 'taboos' that both men and women may fantasize about, but never act upon.
Her film, My Girlfriend's Mother, was inspired by The Graduate. Ms Noelle told
CC2K
in 2011 that it is the relationship, 'particularly a forbidden one,' in a mainstream film that inspires her the most.
'Something with age-play, like the Graduate where you have multiple conflicts, is always great: the age difference between the two main characters, the quasi-incestuous aspect of mother and daughter sharing the same lover. The conflicted male's betrayal of them both,' she said.
Edwardian-era seduction: Ms Noelle's latest erotic film, My Mother's Lover, is opening up pornography for a wider female market - one that has eluded male pornographers for decades
Visual storytelling: Female pornographers like Ms Noelle are changing the way people see porn, creating erotic films that appeal to women and men, no matter what their sexual orientation
'There's suspense and fear and this undeniable lust wreaking havoc on everyone's lives. That's what makes the movie hot. That's the kind of thing I like to explore as an erotic film, be it inspired by a fairytale, film, or book I've read.'
Ms Noelle, who is bisexual, said she 'fell into the porn industry by accident' when as a
science and nature journalist, she was asked to
write an article for Spread, a magazine aimed at people in the sex industry.
She wrote about her experience assisting a fetish video, and quickly began to get offers. She said she started out in the lesbian film industry and eventually became the creative director of Girlfriend Films.
'I decided it might be an opportunity to do something new with porn,' she said.
Nica Noelle: The stripper-turned film maker said she 'fell into the porn industry by accident' and is now changing the way people view the industry
'The only porn I had ever watched was passionless and no one could understand why these people were having sex - they looked so indifferent. The only time they looked passionate was when women were being severely abused.'
Despite coming up against resistance from male porn film makers who told her it 'wouldn't work,'
she decided to show more body language, urgency and intimacy in erotic films.
'My friend, the erotic filmmaker Ernest Green, said to me once "Behind every great porn movie is one guy's hard on." And I think the same is true for female directors,' she said. 'Meaning, I shoot what turns me on. There was no equation or algorithm that I used to form a strategy. It was just "what do I want to see?"'
Her parent studio Mile High Media gave her full support, taking a chance on her emotional approach to porn film making and now, 'all the studios are scrambling to try to do what we do,' she said.
'What I try to bring women – and men, frankly – is my own sensibility,' she added.
'First of all, let's see some guys we might actually want to have sex with. Let's give them some personality and vulnerability and inner conflicts. Let's make them human – and even capable of love. Let's show them really making love to the girl.
'Sex as truth and as art. That appeals to women, because women like to be emotionally engaged. But the surprise is, so do a lot of men! I have guys writing to me, "I didn't think I liked porn until I started watching your movies. Thank you for giving me something I can enjoy."'
++++++++++++++++++++++++++++++++++++++++++++
Arielle Pardes | What Swedes know about sex
The Screwtinizer | In Scandinavia, sex has lost its taboo due to increased exposure in media and education
·
Rewind to fall 2012 and you would find me sunk into plush armchairs in various Stockholm cafes, sipping overpriced cappuccinos and doing my favorite thing to do in Sweden: talking about sex.

Sweden's sexual laissez-faire is precisely what lured me into spending half my year in Stockholm. Throughout my semester abroad, I split my time sampling Sweden's elite coffee scene and studying what Swedes know about sex.

Over coffee dates with my new, stunningly blonde, model-like friends, I tried to figure out why exactly sex has lost its taboo in Scandinavia.

Swedes are perhaps best known for their music (ABBA), their design (IKEA), their fashion (H-and-M) and their sexual liberalism.

Swedes can buy dildos in their state-run pharmacies, they can say the words "f*ck" and "d*ck" on the radio and — as Vanity Fair summed up in an August 2012 article about Nordic culture — they are "the only humans in history who have been cool enough to divorce nudity from sex."

Is sex ubiquitous because of the country's ultra-liberal attitude toward sex, or is the country's attitude so liberal because sex is all around?

In November, I met with Hans Olsson, the manager of education at the Swedish Agency for Sexual Education, called the RFSU. In the modern downtown office, he told me about Swedish sex education, which has been mandatory in all schools since 1957 (there's no whiff of "abstinence only" here).

Swedish sex instruction has "always been integrated into other subjects" ranging from biology to civics, and spans over several years — for some students, beginning as early as third grade.

By introducing the topic of sex at such a young age, Swedes surpass much of the hush-hush about intimacy that American children face. And by making discussions of sex as upfront as possible, Swedish kids are both more informed and more accepting of sexuality.

An excellent example is "Sex Pa Kartan" (in English: "Sex on the Map"), an educational video that Olsson helped produce last year. The cartoon film follows a group of teenagers as they very explicitly navigate the experiences of adolescent sexuality — including losing their virginity, homosexuality and the range of possible sex acts.

Its directness is unlike anything I could imagine in an American classroom, but that's what makes it so effective in dealing with adolescent questions about sex.

I'm not the only one who raved about "Sex Pa Kartan." In Sweden, the film is considered a top-notch sex education resource. In America, it would be considered animated porn.

In general, sex scenes don't generate much shock in Sweden. On the state-run television station, full nudity and clear depictions of sex are allowed — although depictions of violence are treated much more cautiously. Families frequently sit together naked in their saunas. And more than once, I saw fully nude photographs on advertisements in the Tunnelbana, the Swedish metro.

Because there is no shock, sex-related issues can be confronted out in the open.

Sweden has among the lowest rates of STIs in the world, due in part to the country's aggressive tactics to spread STI awareness and provide all STI screening for free. Contraception is also widely available at no cost, so less than 4 percent of Swedish women have a child during their teenage years. As a point of comparison, the same is true for 20 percent of American women.

Moreover, there is no debate about abortion, which has been both legal and free for more than 30 years.

Imagine that in America.

I should be clear that for all of their accomplishments, Swedes aren't born with an internalized knowledge of the Kama Sutra or a cultural instinct to write for Cosmo. There isn't something in the water of the Stockholm lakes that inspires sexual savvy.

Quite the contrary, what Swedes know about sex comes from repeated education, images, representations and discussions about sex.

Returning to Philadelphia this semester has left me waxing nostalgic about living in a country where the word "orgasm" isn't treated as profanity. But although I've traded trendy Stockholm for conventional, conservative America, I'm filled with resounding hope each time I see a glimpse of nakedness on TV or a safer sex poster plastered in a cafe.

Maybe one day, we too can treat sex like the natural, normal and totally nice thing that it is.

Arielle Pardes is a College junior from San Diego, Calif.

++++++++++++++++++++++++++++++++++++++++++++
19-years old Colombian model Catalina Llanes by Matallana [Bambi Magazine XIII]
++++++++++++++++++++++++++++++++++++++++++++
Niclas Brunzell is mused by 25-years old Swedish model Linnéa Melander.
She also appeared in a provokingly-titled "Nude"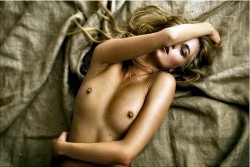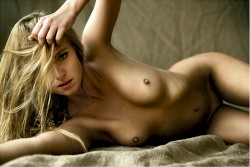 ++++++++++++++++++++++++++++++++++++++++++++
Japanese Netizens are Disgusted by American School Lunches

: "I'm glad I was born in Japan. Why is all their food one color!?"
Jan 30, 2013 by
"School lunch" and "healthy"; these two things don't always go together. Despite numerous doctors and scientists stressing the importance of properly fueling the growing bodies of young children, budget cuts and time constraints (among other excuses) make it extremely difficult to deliver nutritious foods to schools.
When snapshots of American school lunches showed up on Japanese site Naver Matome, many Japanese citizens were horrified by the greasy slop masquerading as food that was strewn about the plastic lunch trays.
In Japan, most school lunches are comprised of healthy fare with lots of vegetables and low-fat foods thrown in. Take a look at a few pictures of lunches I've eaten at one of my elementary schools in Shimane, Japan:
While the students are eating, they are also told what fruits and vegetables are used in the day's school lunch and why each food is good for them.
Now compare these Japanese school lunches to the food found in American schools:
Thinking back to my school days, I remember consuming copious amounts of soggy tater tots, weeping pizza, and mystery meat-filled "taco pockets" (my childhood favorite). The only vegetables present were little white jicama sticks, but no one ate them. The clunky metal schoolyard trashcans were always filled with heaps of half-eaten food and completely untouched jicama sticks.
Has the state of American school lunch changed since I left the playground? Judging from the pictures above, the answer is, "No." But people of the Internet, please prove me wrong. Are there exceptions to these god-awful concoctions traipsing around school cafeterias? Does a nutritionally balanced, healthy school lunch exist in America? I'm afraid of what the answer might be.
Source: Naver Matome
++++++++++++++++++++++++++++++++++++++++++++
Alexandra T
by Pino Leone [Bambi Magazine issue XII]
More pics here
++++++++++++++++++++++++++++++++++++++++++++
These days it seems you can't turn your head without seeing boyishly handsome Jewish porn star James Deen. Especially if your computer has two monitors. He's become known as the "porn star next door," starred alongside Lindsay Lohan in "
The Canyons
," and come out to criticize Measure B, the (ultimately successful) CA ballot measure to force porn stars to wear condoms onscreen. (Where are we? Soviet Russia?) If you're also a proper Heeb-o-phile you'll know that
he made our Heeb 100 list
back in 2008.
While no stranger to fame, Deen is new to the sort of legitimate — NC-17, at least — notoriety he is garnering from his starring role in Paul Schrader's upcoming mainstream film "
The Canyons
". (If you live under a rock and haven't heard of "The Canyons" you'd do well to check out this
million-page expose
of the in-production neo-noir thriller, featuring some truly epic Lindsay Lohan nuttiness. Deen, comparatively, is the sanguine yin to Lindsay's zany yang.)
I sat down with the affable Deen last week at the Adult Entertainment Expo that leads up to the AVN awards, the so-called "Oscars of Porn," (Deen took home Male Performer of the Year…again), to discuss the good, the bad and the weird of his career – In porn and beyond.
Coming from fairly run-of-the-mill (if you're a Jew) origins in Pasadena, James Deen attended a few years of Jewish day school where, he half-mockingly quips in an Israeli accent, he learned the "socialist lifestyle of the kibbutz." Though he does not consider himself a religious man these days, he does enjoy Hannukah with the fam. "I identify with Judaism as a culture more than a religion," he explains, but as a child "I was just in it for the Bar Mitzvah." Having "made good" in
thousand of films
, like "Ass Eaters Unanimous 6″ (2004) and "Wet Tits" (2013), Deen explains that his parents were never phased by his choice of career: "They just wanted to make sure I wasn't gonna try to be a senator and then look back on my life and be miserable and [to] verify that I was being safe." He is, however, a little less open about his few years of homelessness, when he claims he was
kicked out of his mother's house
.
James Deen, it seems, has come a long way. Now, with "The Canyons", written by
American Psycho
author Bret Easton Ellis, he has, some might say miraculously, "gone mainstream." And he says he is open to doing more: "I didn't expect to having nearly as good a time as I did." He was surprised to even get his starring role. "When I first met with Bret Easton Ellis, and we were talking about it, I told him 'I just like that you and I are going out to dinner together. You wrote
American Psycho
and
Less Than Zero
! This is awesome!'" As he soon learned, acting in feature films means more strenuous character building than is usually required in the porn industry "I felt like I was a little kid playing outside with my friends, going to space." How his performance will ultimately be viewed–as a random dance with both fate and Bret Easton Ellis's personal obsessions, or as a Sasha Grey-style "
The Girlfriend Experience
" flash in the pan–remains to be seen. But it's hard not to root for the guy. He's just so goddamn nice.
Aside from his first "legitimate" starring role, Deen is currently producing a short "Cowboys and Engines" a Steampunk Western which has a now seemingly-requisite
kickstarter campaign
. The genisis of his involvement was relatively simple, he told me: "They said 'Hey, we want you involved in this.' I said 'cool.'" He didn't fit any of the starring roles in the film, but jumped at the opportunity to produce. His pitch – it's a Western with sci-fi elements, but one that doesn't call attention to the sci-fi aspects. So what if the guy has a ray gun, "you're watching a movie." Steampunk and Lohan aside, Deen is still committed to porn as his first business; As of now he has no plans to retire. Deen manages to straddle a fine line between the once-taboo porn community and the mainstream world – especially if you include internet comedy under the header "mainstream." Dean currently stars in a number of meme/porn crossover videos produced by Heeb favorite
Lee Roy Myers
' porn-comedy/comedy-porn super-site,
woodrocket.com
. (Take a look – what woman in her right mind doesn't like to see a clean-cut Jewish man holding a kitten?)
By focusing on his rise to mainstream prominence, one can forget that Deen does, in fact, have sex (often shockingly rough) on camera for a living. When I spoke to an up-and-coming star who worked (non-sexually) with Deen, she explained the dichotomy: After meeting boy-next-door Deen for the first time on set "everyone was like James Deen!, James Deen!, so I looked him up… He does some crazy shit. He ties girls up." She specifically referenced his not-for-the-faint-of-heart work on kink.com.
And Deen readily talks about some of the stranger parts of his career path as well. Though he wasn't sure about how the royalties work (I'm still trying to figure it out, myself) he explained the process of creating a realistic vibrating dildo in the shape of his penis, part of a sex toy line by Doc Johnson. Demonstrating with his hands, he explained "pretty much: You get erect, you put your penis in some tube, they pour goo all over it, and somebody smacks it, and then, basically, at a certain point, I was like 'I am no longer aroused.'" Voila. He also claims the only strange part about having this replica for sale is that "It was really weird when I first saw it because I had never seen my penis from that angle." For fans of variety: Don't worry, there's an "anal trainer", as well as various pumps and cock-rings, under the James Deen banner, as well.
I finally asked Deen my burning question: What's with the stereotype that there are large numbers of Jews in the porn biz? He claims Ron Jeremy, by now
the
Jewish face of porn, is part of it. However, given that you've read this far into an article about a porn star, odds are you can think of, at least, 2 or 3 other Jews in porn. Regardless of his Judaism, Deen remains one of the most famous male star in porn, with a rabid internet fanbase and 107k twitter followers, ready to both laugh and fawn over posts like "When girls text me pictures of themselves peeing I usually respond by telling them how hydrated or not they are." It's good to see that, like any
mentchy
Jew, Deen is concerned about his fan's health. We even briefly touched on Deen's Jewiest film: "
Nice Jewish Girls
" in which Deen dresses like a rabbi and several (non-Jewish) female performers play dreidel and the like. "It got a little blasphemous," says Deen. The makers of the film were, of course, members of the tribe.
Lastly, the always-humble Deen talked about being recognized in public. It wasn't exactly what he expected when he started porn at 18, but it doesn't bother him…
if
it's done appropriately. "It's never been my goal to be famous… I always just do things because I want to do them and if something else comes of it, something else comes of it." A starring role in a film by the creators of "American Psycho"and "Taxi Driver" suggest this ethos may be the way to go. Or maybe he's just one lucky Jew.
++++++++++++++++++++++++++++++++++++++++++++
David Fincher, Beau Willimon and

Kate Mara

On Netflix's '

House of Cards

'
On Friday, Netflix will unveil its American remake of House of Cards, written by Beau Willimon (Farragut North) and directed by David Fincher (
The Girl with the Dragon Tattoo
).
In Willimon and Fincher's version of House of Cards, Urquhart is reincarnated as Francis "Frank" Underhill (Kevin Spacey), a Democratic chief whip from South Carolina whose shark-like intelligence—and ruthless amorality—is depicted as a natural side effect of the American Dream. Here, the story is transplanted from Westminster to Washington, where the plot revolves around the dynamic between Underhill and the ambitious reporter Zoe Barnes (Kate Mara). Like Frank, Zoe is overlooked and undervalued, dismissed as a blogger and a "Twitter twat" at one point. Trading secrets and access, the two form a mutually beneficial alliance that could ultimately topple an entire presidential administration.
"She is not as dangerous as Frank is, but I would definitely say she's unpredictable," said Mara. "To him, she is dangerous. They're dangerous to each other."
"It becomes very intimate between the two of them and not just mentally," she continued, laughing. "There are a lot of really dark, twisted conversations they have. They're definitely in a lot of situations that are a little bit shocking. But it's that power struggle; each of them plays with that in their work, but also in their personal relationships as well."
Frank and Zoe's dynamic isn't as cut and dried as it appears at first glance, and which of them has the upper hand in their relationship is continually shifting and evolving. "It's not just about politics in the workplace or in Washington," said Mara. "It's about politics at home and in the bedroom: between lovers, between friends."
Indeed, House of Cards veers sharply off of the path established by the original after the first two episodes, expanding the overarching plot as well as the supporting characters. Andrew Davies's original miniseries and its two sequels, To Play the King and The Final Cut, clock in at 12 episodes total. But the idea here is that the first two seasons of the U.S. remake will comprise 26 episodes, which meant "expanding laterally" and "digging deeper," said Willimon.
Frank's wife, Claire, played with perfect froideur by Robin Wright, is given her own storyline within the U.S. version, while her British counterpart was largely an extension of Urquhart. But the pairing of Frank and Claire gives House of Cards a jolt of unpredictability; their scenes together reverberate with tension and wit. ("Their marriage is fascinating to watch," said Mara, "and how power is given back and forth" between them.)
Callbacks and inside jokes for those familiar with the original are laced throughout. Willimon felt that Frank Underwood as a name "felt Dickensian and more legitimately American" than Francis Urquhart. "But you've got to keep the initials," he said. "In the original, [Francis] came from aristocracy and privilege, but the American mythology is coming from nothing." Francis's famous catchphrase—"You very well might think that. I couldn't possibly comment"—also makes an appearance, while other characters are updated and modernized.
(Coke-addled publicist Roger and his female assistant, Penny Guy, become Corey Stoll's hard-partying congressman, Russo, and his secretary/lover, Kristen Connolly's Christina.)
More here
++++++++++++++++++++++++++++++++++++++++++++
Génesis Rodríguez

Breaks Out
Tara Conner Busts Out Nicely
January 30th, 2013
It has been a while since I did

a post

on former Miss USA 2006 Tara Conner, but here she is at the

Miss Nevada

USA Pageant after-party

with what

appears to be a pair of new funbags. Those things look amazing and I'm sure they're exactly what is needed to resurrect her career. Hopefully, we'll be seeing more of those in the near future.
++++++++++++++++++++++++++++++++++++++++++++
Exclusive:
January Jones Quietly Splits With Sweetwater Screenwriter Noah Miller
It's going to be cold winter for
January Jones
: the actress is single again after quietly splitting with screenwriter and director
Noah Miller
, multiple sources tell
Us Weekly
. The two met on the set of the film
Sweetwater
, which began production in New Mexico in July 2012.
Jones was first linked to Noah in August when the two were photographed holding hands in Santa Monica, Calif. According to insiders, the two split awhile ago but kept their breakup under wraps.
The 35-year-old actress -- whose exes include
Jason
Sudeikis
and
Ashton Kutcher
-- recently reunited with Noah and his twin brother, director
Logan Miller
, during the Sundance Film Film Festival in Park City, Utah. "They were completely fine in each other's company, so it didn't seem like it was an ugly breakup at all," a source says of the exes.
In the film, Jones plays a 19th-century widow who helps the local sheriff take down the man who killed her husband. "They're very passionate people, very high energy," the actress said of working with the Miller twins. "When I sat down with them for the first time I wanted certain things explained, and they just won me over and got me really excited. I felt immediately that I would be in an atmosphere that I could trust them and be safe."
Noah added that he became "very close" to Jones on set and praised her stunt work in the intense film. "She shoots a ton of people in this movie, and I'm telling you, not one time did she miss," he said. "It was wonderful to see her very confident."

Mad Men's Jones is mom to son Xander, 16 months. She has yet to reveal her son's father's identity publicly.
++++++++++++++++++++++++++++++++++++++++++++
Katie McGrath

and Nonso Anozie Join NBC's 'Dracula' Series
Merlin
star Katie McGrath and Nonso Anozie (
The Grey
) have been cast opposite Jonathan Rhys Meyers in the upcoming
NBC
/Sky Living HD 10-episode drama series
Dracula.
The series re-introduces Dracula (Meyers) as he arrives in London, posing as American entrepreneur Alan Grayson who maintains that he wants to bring modern science to Victorian society. In reality, he hopes to wreak revenge on the people who ruined his life centuries earlier but falls hopelessly in love with Mina Murray (
Jessica De Gouw
) who appears to be the reincarnation of his dead wife.
McGrath will play Lucy Westenra, Aristocratic London's sexy, social butterfly and Mina's best friend who has a penchant for gossip, flirting and all things glamorous.
Anozie will play R.M. Renfield, Alan Grayson's fiercely loyal confidante. McGrath, repped by Luber Roklin, attorney Fred Toczek and UK's The Rights House, just wrapped her stint as Morgana on the Syfy/BBC series
Merlin.
She also guest starred on
The Tudors
opposite Meyers. Anozie has guest starred on HBO's
Game of Thrones
. Based on a script by co-executive producer Cole Haddon,
Dracula
is executive produced by Colin Callender, Tony Krantz, Gareth Neame and Dan Knauf for Universal Television.
* that was fast. But they're filming in England so Katie stays in the isles for now. It's on NBC.

T

hat means no fr

ick

in

'

nudity.
++++++++++++++++++++++++++++++++++++++++++++
The Hollywood Math Behind How Lindsay Lohan's 'The Canyons' Will Make Money

Even though the $160,000-budget, nudity-heavy movie was passed over by Sundance and SXSW, a buyer tells THR, "There's so much press about the film that someone will grab it."
This story first appeared in the Feb. 8 issue of The Hollywood Reporter magazine.
Is Lindsay Lohan's
The Canyons
coming to a multiplex near you?
The
Paul Schrader
-directed erotic thriller starring Lohan and porn star
James Deen
was rejected by Sundance and the SXSW Film Festival over quality issues, but buyers surveyed by
THR
say it will be too tempting to ignore. WME sales agents are expected to begin showing the $160,000-budgeted film to potential distributors in the coming weeks.
The most likely home for the film, penned by Bret Easton Ellis and featuring graphic nudity, will be VOD coupled with a small theatrical release.
"It's tailor-made for that model," says one buyer. "There's so much press about the film that someone will grab it."
Canyons
could emulate last year's low-budget R-rated comedy
Bachelorette
, starring
Kirsten Dunst
.
The film, from Radius-TWC, drew scathing reviews but was the most downloaded title on iTunes in its first 24 hours and took in $7.4 million on VOD despite grossing just $447,000 in theaters.
Canyons
producer
Braxton Pope
could even launch midnight screenings a la
The Rocky Horror Picture Show
or
The Room
, and one insider suggests trying to "eventize" the movie via a pay-per-view stunt. But chances are a distributor will opt for a hybrid VOD/theatrical release.
Says Radius co-president
Tom Quinn
, "I'm sure every acquisition executive is foaming at the mouth to see it."
++++++++++++++++++++++++++++++++++++++++++++
Serinda Swan

on 'Graceland' and Her Go-To Red-Carpet Designers
by Lorraine Cwelich
Serinda Swan is a former Guess model who made the Maxim Hot 100 list, but don't let her beauty fool you–she has played one badass character after another. After breaking into television with guest appearances on Supernatural, Smallville, and Hawaii Five-O, Swan portrayed the tormented, fearless bounty hunter, Erica Reed, for two gut-wrenching seasons on A-and-E's Breakout Kings. She currently shares big screen time with Billy Bob Thornton, Andre Braugher, Eva Longoria, and Travis Fimmel in the Southern-fried, good ole boys romp, The Baytown Outlaws, which is available on iTunes. In June, Swan's new series, Graceland, joins USA Network's lineup of smart, witty, well-written dramas populated with quirky characters.
Based on a true story, Graceland is named after a Malibu beachfront condo, which is seized from an Elvis-obsessed druglord. It becomes home to a cadre of prickly male and female undercover FBI, DEA, and Customs agents who happen to be single, attractive, and ferociously intelligent. Swan plays Paige Arkin, one of the housemates whose days are a tangle of clever banter, simmering chemistry, kitchen-chore bickering, and running the backstreets of funky Venice, outmaneuvering vicious thugs in a style reminiscent of Steven Soderbergh's Traffic.
We chatted recently with Swan, who is soaking up the sun in Fort Lauderdale, where Graceland is currently filming.
ELLE: It's freezing in New York, and you're a Vancouver native, so you know all about wind chill. How hard will it be to leave the warm comfort of Fort Lauderdale, and just before spring break madness?
Serinda Swan: [laughing] We'll leave just in time, a week before spring break! The boardwalk here doubles as the Santa Monica Pier. It's been a real whirlwind. When I was offered the role, I had to turn down a film with Samuel L. Jackson and Dominic Cooper [Reasonable Doubt], which was shooting at the same time. But as soon as I read the pilot script for Graceland, I just knew it was going to be great.
ELLE: Tell us about your character, Paige.
SS: She's a tough as nails DEA agent but not filled with anger or ready to snap at any moment like Erica Reed on Breakout Kings; she's actually the opposite. Paige is always giving people a hard time in a sort of a fun, sarcastic way. Even though she is the life of the party and the comedic relief sometimes, there's a real grounded, deeper side to her. She's the character that people go to talk to and open up [to her], and then she'll slap them on the ass and tell them to stop whining and buck up.
ELLE: The Baytown Outlaws looks like it was a wild set.
SS: It's an offbeat, shoot-'em-up cowboy kind of craziness. We had a blast on set. We were constantly playing pranks on each other, especially Travis Fimmel. We girls wore six–inch heels all day, so we couldn't wait to get into our flip-flops after shooting. One time, Travis nailed my flip-flop to the floor, so I fell on my face when I went to walk! But we got him back. He had been a Calvin Klein underwear model, and there's a famous photo of him in a thong, which he's kind of embarrassed about. We printed out hundreds of copies and plastered them everywhere–walls, drink coolers. We pasted them on plates and Saran-wrapped them, so everyone was eating lunch off of Travis's thong. He got so mad! And then he stopped being a prankster.
ELLE: Speaking of Calvin Klein underwear models, you dated Mehcad Brooks...
SS: Yeah, we broke up a year and a half ago. He's very intelligent and is actually on another USA show right now, Necessary Roughness. But I'm single now. It's difficult dating, as an actor because your free time is precious. The guy I end up with someday is going to have to love traveling.
ELLE: Do you travel a lot in your downtime?
SS: I travel to Cambodia, Thailand, Bali, and Nairobi for my charities: Somaly Mam and Friends to Mankind. We skydive to raise funds, called "18 for 18 Project Rescue." And I find that if you can bring back something tangible, like clothes or necklaces or this intricate tattoo I got in Malaysia, that people ask about it. It shines a light and raises awareness about human trafficking. I love bringing the colors and textures of other cultures. If I wear a dress that I bought from a street vendor in Bali on a red carpet, it's a way of bringing my travels with me.
ELLE: What was like to jump out of an airplane?
SS: Absolutely fabulous! The first time, it was terrifying. But you don't feel like you're falling; you don't feel that gravity pull. You're being pushed up by so much air, that it actually feels like you're being held. When you jump, you count to three, and all I thought about was my girls [Cambodian victims of sex trafficking].
ELLE: In addition to your fashion finds in Asia, which designers do you wear?
SS: I love jeans and T-shirts but for red carpets; I like Oscar de la Renta, who is timeless. Marchesa celebrates the female form in an ethereal way. Donna Karan does an Urban Zen collection, which is eco-friendly. I love socially conscious fashion.
* I been waiting like forever to see 28-years old Serinda do a nude scene and it's likely I'll have to wait for another 7-to-8 years before we can expect anything from the babelicous Canadian. Her work as anti-sex trafficking activist is another barrier. She takes that job pretty seriously and it'll unbecoming if she do anything super racy on-screen. She wants to be a role model to the rescued victims and show them that part of the recovery process

is to stay

strong, resolute and becoming independent

is possible

e

ven after such a harrowing ordeal.
++++++++++++++++++++++++++++++++++++++++++++